Who Is Master Brooks Mason?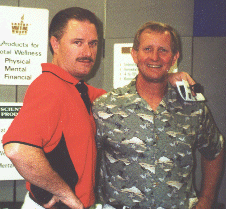 Brooks Mason is the guy who stands back and lets others absorb all the glory while winning Titles.

Mr. Mason is a Martial Arts MASTER (9th Degree), Kickboxing Muay Thai Trainer and IKF World Ambassador. His history of involvement with Martial Arts and Kickboxing is vast! He has traveled around the globe as both a trainer and a fighter, having several hundred bouts in all different forms of ring fighting. As many find out after they meet Brooks, you won't find him talking about his past accomplishments. Instead, he is an inspiration to everyone around him. We could fill page after page of his accomplishments, but as Brooks himself will say, Why?

Back in the 90's Brooks had a martial arts school in Roseville, California, USA, just down the road from the IKF Headquarters and IKF President Steve Fossum's (With Brooks at Right) martial arts school. It was there that Fossum, the IKF and Master Sensei Brooks Mason formed a great friendship, sharing ideas of both kickboxing and the martial arts.
To Mr. Fossum, Mr. Mason is not great because of "WHO" he trained, he is great because of "HOW" he can train and who he is, NOW, TODAY!
"Many trainers try to milk WHO they use to train. What impressed me about Brooks was that he never talked about his past accomplishments unless asked about them directly. Many past trainers, after their main fighter leaves them or stops fighting, drop out of site and never do anything great for THE SPORT. Brooks has great plans for THE SPORT."Says Fossum.
Mr. Masonattends as many IKF events as his schedule permits him to. If you happen to see him, take a moment to say hello to someone the IKF feels so honored to know, that they named him "IKF WORLD AMBASSADOR", the highest title of any IKF Official.

Add to all this and it's no surprise when we tell people Brooks is also a Mensan Not sure what a Mensan is? Click HERE to find out...

If you are looking for some great seminars on a vast viriaty of topics from Trainers, cornermen, fight tips, etc. etc. get in contact with Mr. Mason and try to book him as soon as you can as his knowledge of the sport is beyond measure!



Brooks was also the Co-Host of the IKF KICKBOXING TV Program. Here is a story about something he always signed off with, which shows hos incredible passion as a former Marine.
"Goodnight Chesty Puller, Wherever You Are"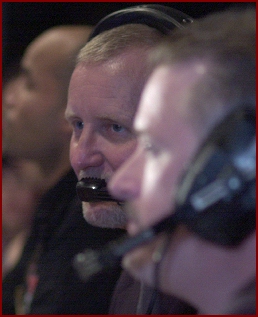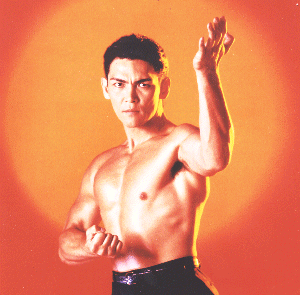 So who were some of the fighter's Mr. Mason trained? Well, the numbers are many, but one we all know was a fighter he helped win "10" WORLD TITLES in 3 different weight classes.
Mr. Mason started training a 17 year old martial artist in a town in Florida by the name of Don Wilson who later became, you guessed it, 11 time World Champion and former IKF World Champion and movie star
Don "The Dragon" Wilson.
Mr. Mason trained him long before he became,
"The Dragon"
Wilson is one of the greatest kickboxing champions of all time. He is the only kickboxer to win 11 world titles in 3 weight divisions
(Light Heavyweight, Super Light Heavyweight, and Cruiserweight)
and for 6 sanctioning organizations
(IKF, WKA, STAR, KICK, ISKA & PKO).
Along the way, he defeated 11 other world champions, 12 #1 contenders and 15 national champions on 4 continents.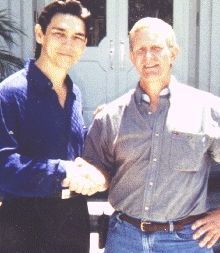 CONTACT INFO: (402) 805-3079 or by e-mail at rbm31415@gmail.com